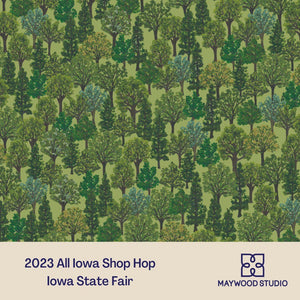 The print features Trees on a green background.
"For 2023, our exclusive fabric line features the one-of-a-kind Iowa State Fair.  Designed by Iowa-based artist Suzanne Aunan, and sponsored by Maywood Studio, the fabrics illustrate the many sights and sounds of the annual August event. There are seven whimsical prints in a fun color scheme, plus coordinating ginghams, mini-dot prints and solid blenders. Whether you're an Iowa native, or just a fan of the state fair, this line is sure to bring up many heartwarming memories."
Shipping
calculated at checkout.