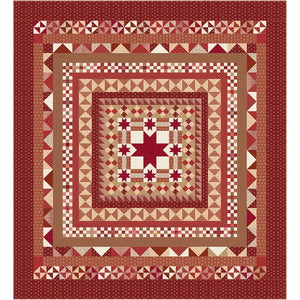 Repro Reds is a beautiful gathering of rich brick, cherry, and barn red prints with a few dusty pinks, tans and creams to complete this collection. Together, they form the color palette for a traditional red and white quilt, one of Sheryl 's favorite color combinations.

To take part in 6 month Block of the Month - Purchase the 1st Block for $37.50, then each month on the 20th we will send you an invoice for the next month.  On the next 1st of each Month, your block will be mailed out or you can stop in and pickup.  
If you prefer to purchase the complete Block of the Month at once - Choose Complete Kit.
Her beautiful Red Robin BOM quilt is a pieced design featuring 4-patch, 9-patch, half-square triangles and other classic quilt blocks, perfect for various skill levels.  Size: 62  x 83 
Shipping
calculated at checkout.