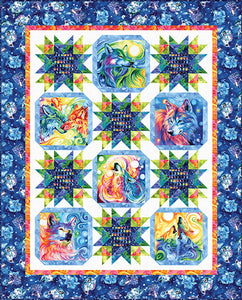 Howl at the moon with Katy Lipscomb's new collection, 'Spirit of the Wolf.' Experience incredible illustrations and textures on patterns that feature moon phases, swirls, running wolves, watercolors, and lupus constellations that are drawn in a vibrant rainbow color palette.  Celebrate the wolf with this 13-piece collection that will be sure to color your world. This is printed digitally to capture all the rich colors. 
Quilt designed by Heidi Pridemore
Finished Quilt Size 50" x 62"
Skill Level: Advanced Beginner
Shipping
calculated at checkout.