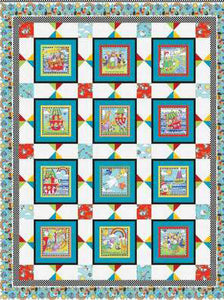 Noah's Story by Delphine is an adorable adaptation of the story of Noah and his Ark. The Animals are whimsical and the colors are true primary, bright reds, royal blue, emerald green and lots of aqua. This is a classic collection that is gender neutral. There is a 30" panel featuring all the animals with Noah in the Ark which makes a great size baby blanket as is. There is a 36" book panel with the story of Noah. Allovers include: pandas, zebras and sheep tossed allovers and an allover of all the animals together. To tie it all together there is a black and white check that is used in many of the prints, keeping the black and white for contrast.  
 Noah's Story Fabric Collection
Click for Pattern - Do NOT add to cart, download at your convenience.
Shipping
calculated at checkout.