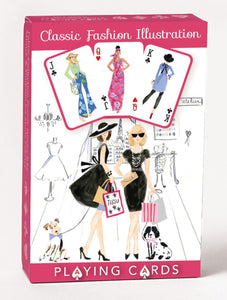 Fun fashion images from A Stylish Guide to Classic Sewing, by best-selling authors Sarah Gunn and Julie Starr, spring to life in this imaginative deck of playing cards. Each watercolor sketch is shown in exquisite detail, so you can admire the outfits from hat to boots. So lovely you will want every card in your hand, these popular playing cards make a great gift for fashion and art lovers, but will be adored by all!   
Size: 2.375in x 3.5in
Shipping
calculated at checkout.