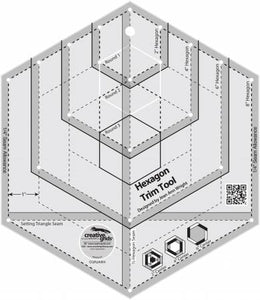 Create perfect pieced hexagons with 2, 4, or 6 inch finished centers by squaring up each round of strips as you go. Since each round is squared up before the next set is added, the blocks created are perfect hexagons. Or use the markings to cut 2 to 8 inch finished hexagons and every even size in between. Note: This tool cuts finished hexagons that measure 8 inches from side to side. From point to point, the cut hexagon is slightly less than 10 inches so they can be cut from 10 inch pre-cuts. Pattern requires inset seams? No problem - use the drilled holes to mark the seam allowance. Want to cut half hexies to avoid inset seams? The markings for half hexies are includes as well.
The tool slides easily over the fabric until pressure is applied. Then, our exclusive gripper holds the fabric in place while cutting, eliminating slipping and miss-cuts! The template comes with fully illustrated step by step instructions or scan the QR Code printed on the template to view a video demonstration.
Total Size - 8-1/2in x 9-3/4in
Shipping
calculated at checkout.