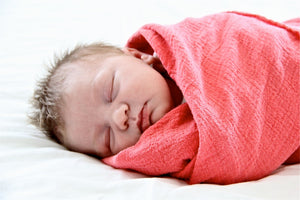 Swaddling has been practiced for hundreds of years all over the world, likely because swaddling is key for calming a newborn baby. This swaddle blanket helps take the mystery out of folding a traditional square blanket, which, without experience, often comes undone. With this special design, the ties will help hold your little one comfortably and securely.
 Check out this Demo to make your own     View demo for instructions. 

Fold the swaddle into a triangle, and place your baby in the center with the shoulders just below the fold.
Place your baby's right arm alongside the body, slightly bent. ...
Fold the bottom of the swaddle up and over your baby's feet, tucking the fabric into the top of the swaddle.
Shipping
calculated at checkout.