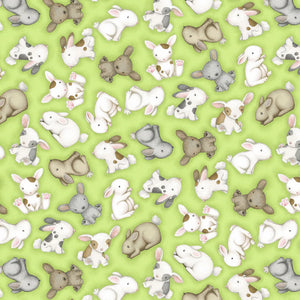 Be ready to fawn over this 13 piece collection! Farm Babies features adorable animals you would find on the perfect farm. This collection includes tossed pigs, tossed chickens, tossed bunnies, tossed flowers, greenery, paisley, and plaid patterns. The color palette is blues, greens, and pinks, sprinkled in with some black and gray. This collection also includes two 24" panels filled with cute barnyard animals.
Click for Complete Collection     Free Pattern
44" x 45" wide   100% Cotton
Shipping
calculated at checkout.