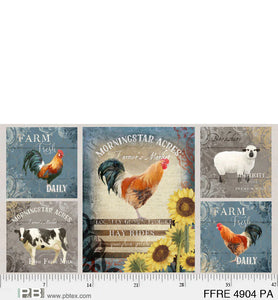 Do you love farmhouse style? These are the fabrics for you! The artwork is richly colored with interesting layers to create beautiful designs. The panel features two block sizes .... use the large one as the focus of a table topper and the small ones to make coordinating placemats or napkins! 6" squares create the block print that is sold as running yardage .... so cute to make curtains, aprons and more. 
Small blocks approximately 11" square; large block 17 1/2" x 22 1/2"; 1/2" top and bottom, 1" selvedges; 1/2"-3/4" between.

Shipping
calculated at checkout.