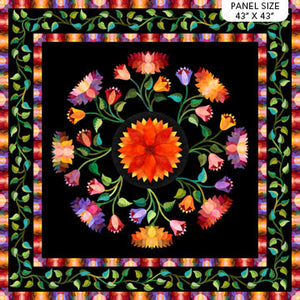 Flamenco Panel cotton fabric
This is an extra large panel that measures 43'' x 43''. It makes an amazing wall hanging all by itself, or you can use it as the focal point of a gorgeous quilt.
Flamenco by Aie Rossman for Northcott Fabrics
Created by Aie Rossman, renowned designer, quilter, long-armer and author, Flamenco is based on her award-winning quilt "Insomnia." Remastered in Northcott's popular Toscana as an oversized 43'' x 43 '' Panel, Insomnia is the focal point of the Flamenco. In addition to the dramatic panel which makes a centre piece for any quilt or for free-motion quilting classes, the collection includes a spectacular border stripe to easily expand the panel into a larger quilt. As well a selection of mix and match multi-directional coordinates and textures provide endless creative possibilities in vibrant hues. Click to see complete the collection, a wide range of coordinating fabrics.
Shipping
calculated at checkout.