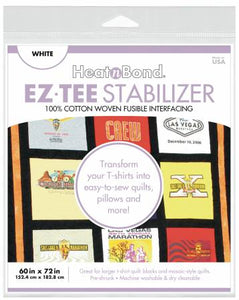 Transform your T-shirts into easy-to-sew quilts, pillows and more! Lightweight, 100% cotton woven fusible interfacing adds just enough stability to knit T-shirts, sweatshirts and jerseys to prevent curling and stretching without adding bulk. EZ -TEE keeps quilts as comfy as the shirts used to make them. 60 inch width x 72 inches. 100% Cotton Woven Fusible (White). Pre-shrunk. Made in the USA.
Woven

Fusible

Weight: Lightweight

Single Sided

Washing/Drying instructions: Machine washable and dry cleanable.

Best use: For T-Shirt Quilts, Memory Quilts, Honor Quilts, College Quilts, Baby Quilts, Concert Quilts.
Shipping
calculated at checkout.