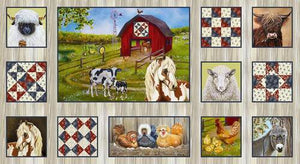 "Down on the farm" collection for Henry Glass Fabrics, takes you back to those days of feeding baby lambs and calves with milk bottles, collecting eggs and running through barefoot through grassy fields. Farm life gives you a real appreciation for nature and the love of animals. This collection offers 10 prints, including a 24-inch panel, a block print, a barn scenic, a polish hen, a sheep, a tractor, a calico design and a border stripe. All these prints are ideal for any sewing project, like a quilt, a table runner, placements and more.
Click on free picture to retrieve free Pattern
Shipping
calculated at checkout.