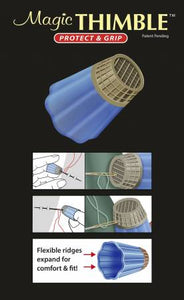 The Taylor Seville's new Magic Thimble is ideal for both left and right-handed sewist. The Magic Thimble's flexible ridges expands for comfort and fit. It has a textured surface which helps to maintain your grip, while the dimples and ridges along the top will help prevent the needle for slipping. One size fits most!
Color: Blue and Grey

Made of: Plastic

Use: Thimble
Shipping
calculated at checkout.