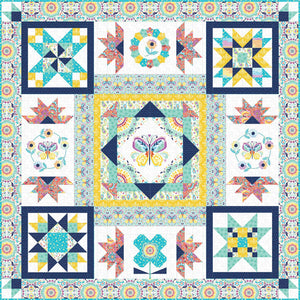 "Summer Song is a 9 month Block of Month. 
Finished size is 90 1/2" x 90 1/2"
To purchase 

each block on a monthly basis by stopping in for pickup or having it shipped Monthly for a cost of $20.00 per month for 9 months

. If you plan on having your blocked shipped there will be a minimal cost added for shipping.  You can pick up on the 1st of each Month. 
 If you have chosen to purchase the Complete Block of the Month at once for a reduced cost of $170.00.   You can choose Complete Kit and your kit will be shipped all at once to you. 

Shipping
calculated at checkout.