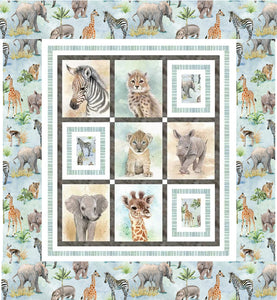 Baby Safari Animals designed by Clint Eagar for P&B Textiles. Clint's deep connection to Africa is the inspiration for this charming, inaugural fabric collection. The softness and delicacy of the color palette is augmented by the incredible detail used in every motif.
Baby Safari Animals Quilt top Kit
Finishes at 53" x 59"
Skill Level:  Confident Beginner
Kit Includes - All Fabrics needed for the Quilt top including Binding
Complete instructions with illustrations
Backing and Batting NOT included in this kit (Needed 3 1/2" yards)
Shipping
calculated at checkout.