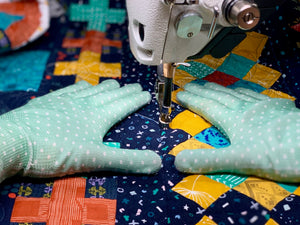 Do you wish you could finish your table runner top by yourself but struggle to figure out how?  If you would like to learn how free motion quilting, sign up for our introductory class.  
Gain the confidence you need to complete your runner or tabletop with our October 26th class starting at 9:00 am. We'll provide the instruction to get you started, and with a bit of practice you'll soon be quilting your own tops from home.  10 spaces available
This is 1 day class - but we can add more as needed.       
Supply list - 
Sewing Machine with an open toe or hopping foot, correct machine plate, and owner's manual. 
Top stitching needles #14.  

3

 - 18" x 18"

 

fabric 

sandwiches to practice on.  (Fabric - Batting - Fabric, 

then baste around the perimeter

)
  (If you don't know about items listed above, call with questions or stop in with your owner's manual and we can verify if your machine will work.
Things to check out about your machine.
Does your machine have the ability to free motion quilt

?  It should be listed in your machines owners manual.  

Verify your machine has the ability to drop its feed dogs. 

You will want an open toed or hopping foot 

& the correct throat plate that is listed in your owners manual. 
 Zoom Classes Available -  Call for information.
Shipping
calculated at checkout.