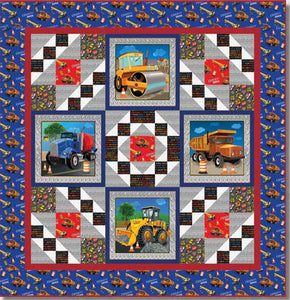 There's something about heavy trucks that get people excited. The power of these machines with their bright colors and bold shapes are fun to design and illustrate. The Construction Zone collection brings all these elements together in a bright and fun way to celebrate the men and women who build our roads and infrastructure. The collection includes a 24 inch panel, a 4 block pillow, a 36 inch panel, a construction site design, a diamond plate texture, a tossed sign allover, a construction word print, a crane design, a concrete mixer and a front loader print. The collection was designed with project versatility in mind.
Finished Quilt Size: 69" x 69"   Skill Level:  Advance Beginner
Kit includes  Pattern, Material for Top of Quilt and Binding.
  100% Cotton
Shipping
calculated at checkout.