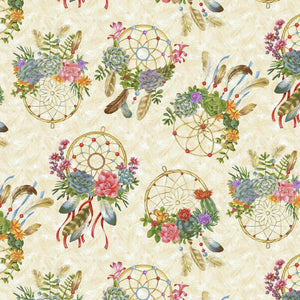 "Dream Catcher" by Jane Alison is a collection that combines desert botanicals and dream catchers in a lovely way. The main pattern can be described as an arrangement of 6 different blocks of dream catchers and succulents (12 in. x 9.25in blocks). This main design can be used for lots of different craft projects. This collection contains a packed succulent and flower pattern, an allover design with sayings and flowers, a tossed feather allover, a packed succulent print and a tossed butterfly pattern. The main colors used in this collection are light turquoise, coral, green and cream.
Fabric Content: 100% Cotton
Width of Fabric: 44/45 wide
Click on the Picture to retrieve the Pattern
Shipping
calculated at checkout.