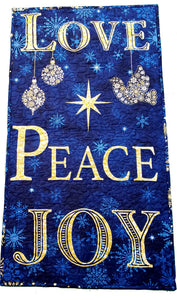 Looking for a Winter Christmas Decor for the wall.  This kit contains a panel of the Love, Peace, & Joy Panel and a corresponding back.  
All you have to do is sandwich the Top, Batting & Backing and quilt.   You can put jewels on it to embellish it, and give it a new look.
Shipping
calculated at checkout.